Regular price
RM116.00
Sale price
RM104.40
Unit price
per
Sale
Sold out
Share this
Sun & Young Pure Breath Aromatherapy Set may be perfect for individuals who need help with respiratory issues and want to promote clear breathing. The set include 100% pure essential oils of eucalyptus, peppermint and tea tree, which are known for their respiratory benefits.
Eucalyptus oil is a popular essential oil used for respiratory support due to its anti-inflammatory and decongestant properties. Peppermint oil may help relieve nasal congestion and promote clear breathing, while tea tree oil is also known for its antimicrobial properties and may help reduce inflammation in the respiratory tract.
When using Sun & Young Pure Breath Aromatherapy Set, you may consider diffusing the oils in your home or workspace, inhaling the oils directly from the bottle, or adding a few drops to a carrier oil and using it as a chest rub. You may also add a few drops to a warm bath to help open up your airways.
Sun & Young Pure Breath 精油套装非常适合那些需要改善呼吸问题并促进清晰呼吸的人。该套装包含尤加利、薄荷和茶树100% 天然纯精油,这些精油都以其呼吸道益处而闻名。
尤加利精油是一种广泛使用的精油,用于呼吸道支持,因为它具有抗炎和消肿的特性。薄荷精油有助于缓解鼻塞并促进清晰呼吸,而茶树精油也以其抗菌特性而闻名,并可能有助于减少呼吸道炎症。
在使用Sun & Young Pure Breath 精油套装时,您可以将精油扩散在家中或工作场所中,直接从瓶子中吸入精油,或加入几滴到基底油中并用作胸口上按摩。您也可以在温水浴缸中加入几滴精油,以帮助打开呼吸道。
Direction 使用方法

Diffusers & Burners 扩香机

Add 2–5 drops into a diffuser or burner. A natural air freshener, this
technique creates a relaxing ambiance and mood.

在扩散器或燃烧器中加入2-5 滴。这种技术是一种天然的空气清新剂,营造出轻松的氛围和心情。

 

Inhalation 吸入

Open Sun & Young essential oil bottle and hold it up close to your nose. Alternatively you may place a few drops on handkerchief or tissue and take a breath on it.

打开 Sun & Young 精油瓶,靠近鼻子。 或者,您可以在手帕或纸巾上滴几滴,然后吸一口气。

 

Massages 按摩

Relaxes your body and mind while helping to soothe aching muscles. Diute by adding 3-6 drops of Sun & Young essential oil to carrier oil.

放松身心,同时帮助舒缓肌肉酸痛。在基础油中加入3至 6 滴 Sun & Young 。

 

Bath 浴澡

The essential oil is inhaled through the aromatic steam, as well as being absorbed by the skin. Add 4 to 6 drops of Sun & Young essential oil or use with Epsom Salts to a warm bath.

精油通过芳香蒸汽吸入,并被皮肤吸收。 在温水浴中加入 4 至 6 滴 Sun & Young 精油或与浴盐一起使用。

 
Safety 注意事项

For external use only. Do not use undiluted on the skin. Avoid contact with sensitive areas, such as eyes. Keep out of reach of children. Do not use essential oils on infant under 3 months old. Consult your healthcare professional before using essential oils during pregnancy, breastfeeding, taking medication or have medical condition. Best kept in a cool dry place

仅限外部使用。 不要在皮肤上使用未稀释的精油。 避免接触敏感区域,例如眼睛。 请放置在儿童无法接触的地方。 不要在 3 个月以下的婴儿身上使用精油。 怀孕、哺乳、服药或具有健康状况者,请先咨询专业医护人员再使用。 请放置在阴凉干燥处
View full details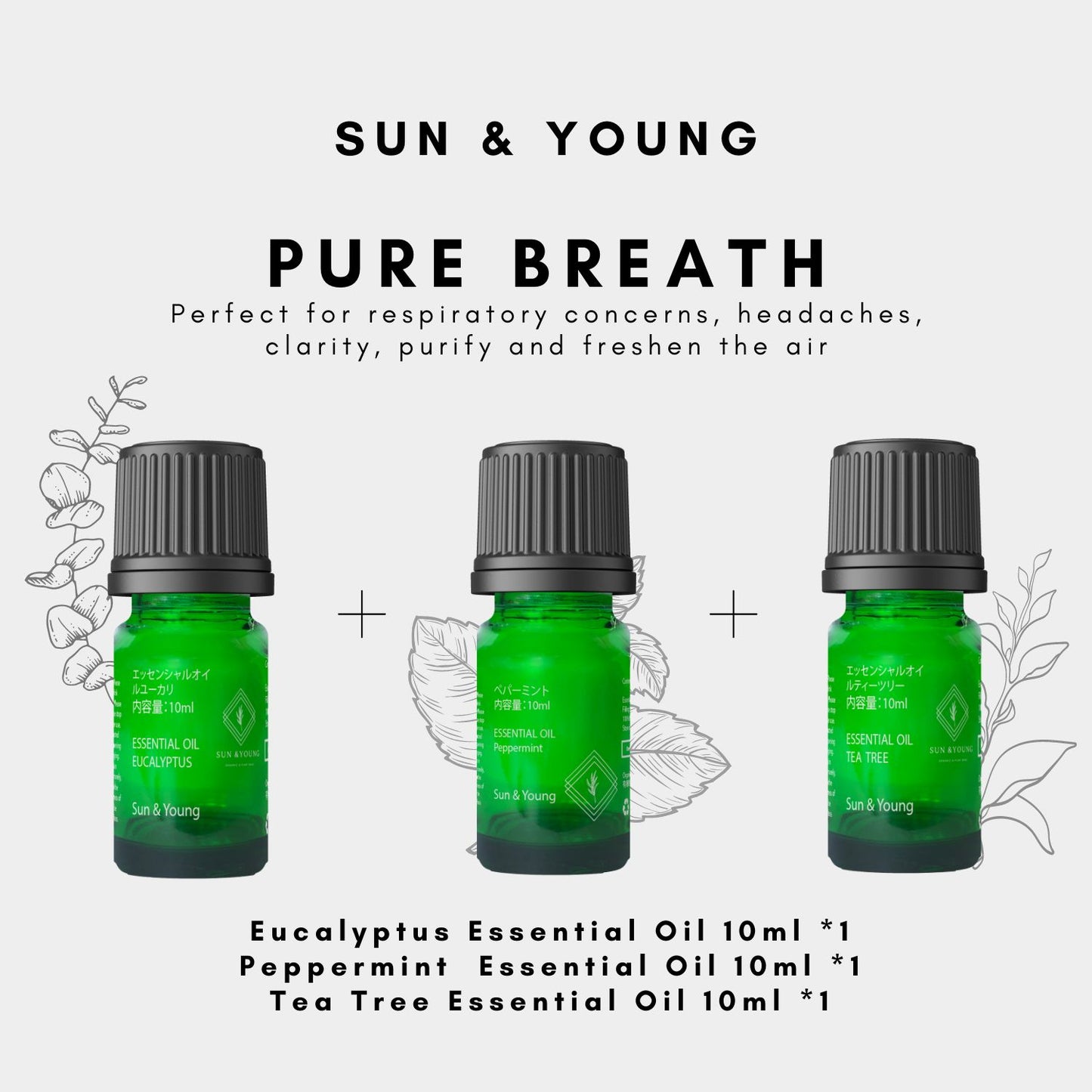 Greeting Card

Buying a gift for someone special? Complete your present with a greeting card and a personal heartfelt message.


Add to cart

Honeycomb Wrapping

The honeycomb paper wrap is a spectacular option when you want something far more sustainable and beautiful. It is made of Kraft paper- fully recyclable and biodegradable.

Add to cart

Paper Bag

Au'tree paper bag for all your gifting needs. 

Add to cart